Introduction
As an event planner or perhaps wedding host, it is your duty to ensure that the entertainment sector and all other relevant aspects of the wedding are running smoothly. In other words, the overall success of your wedding event lies solely on which professional that you settle for your needs. You want to select a professional individual who can be dynamic and experienced enough to handle all the needs of your audience thereby providing them with an unrivaled experience. However, if you opt for an amateur service provider, you will have increased the likelihood of things going awry since they lack adequate competency to handle an event of such a caliber.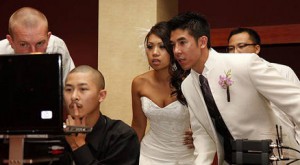 Top 6 Reasons to avoid an Amateur Deejay for a wedding
Amateurs lack experience- a beginner DJ lacks the experience requires to calibrate to the particular mood of the event as well as the mood of the audience. More so, an amateur lacks the experience necessary to select suitable songs to provide your wedding guests with the ultimate entertainment experience. Deejaying is an art that involves beat juggling, back spinning, scratching, phase shifting and beat cutting amongst many other skills- of which an amateur hardly possesses.
Audience control requires skills- although a quality deejay is needed to have quality musical manipulation skills, he is also required to have sufficient crowd control techniques and strategies. In most cases, an amateur lacks insight on such techniques, which are critical for directing the audience`s attention.
Wedding events require superior music equipment- in most cases procuring quality equipment is a costly and massive investment for any professional DJ. However, with an amateur professional, investing in such kind of equipment is downright challenging hence causing them to lack a comprehensive musical regime required to offer a fantastic entertainment experience. Some of the equipment you might want to see include turntables, robust computers and electronic contrivances such as reverb, equalizers, and delays.
A novice lacks complete professionalism- an amateur deejay is more likely to engage in unprofessionalism tendencies such over indulging in excessive alcohol or perhaps consuming of drugs to the point where they cannot provide quality services anymore.
An amateur lack a money back guarantee/ warranty- in most cases, most amateur deejays are not under any stipulated contract agreement. Under such kind of circumstances, you can be sure that any payments you make will not be reimbursed leading to unnecessary loss and a gloomy wedding experience.
You do not get dynamism and convenience with an amateur- hiring an amateur means that you might have to assist him in setting up the appropriate music entertainment for your wedding occasion. Furthermore, you this type of inexperienced professional lacks sufficient versatility in terms of crowd and music control skills that you would typically find in an experienced professional.
Conclusion
Since you want people to have an epic and awesome time at your occasion, ensure you avoid the following mistakes when settling on a suitable DJ to accommodate your requirements. The following are just suggestions worth taking into account for a flawless and memorable experience for you and your guests.